DTE Motorsports in Oxford, ME, is a full service shop that offers restoration, repair, maintenance, component rebuild, sales,race prep and general advice. Our core product is Mercedes Benz of the 50's,60's, and early 70's.We do however have the capailities to do other marks. This was brought on by requests from customers to service & restore other cars in their collections. Some other marks we have worked on are; Buggati, Cunningham ,Chevrolet.Cadillac,Kurtis,Ferrari,Ford,Pierce Arrow,Porsche to name a few. We are especially adept at completing stalled or "basket case" cars and "sorting out" cars to drive as intended.We also have body,chrome and interior capabilities as well as fabrication and welding.
David has been in the restoration business for 45 years.First as a MB factory trained dealer mechanic and later as restoration tech at Dearborn Auto & then shop foreman at Gullwing Service now Paul Russell & Co.He has operated his own shop since 1997. David also has government FAA licences in Airframe & Power plant.His son Justin is a graduate of Wyotech and has many years working on vintage cars.
Please give us a call to discuss your present car , stalled project or talk about acquiring one.
DTE MOTORSPORTS facility is located on our 100 acre farm in the foot hills of western Maine in the Sebago Lakes area. We are 75 miles from Portsmouth NH 30 miles from PORTLAND maine. There is a county airport 5 miles away. (The OXFORD CASINO/HOTEL IS NOW OPEN 24/7 STOP IN AND VISIT US.)
DAVID TWITCHELL
JUSTIN TWITCHELL
1963 300SL RO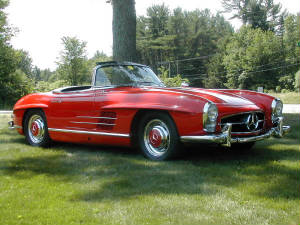 157 Sam Rowe Hill Rd
Oxford Maine 04270
USA
Phone: 207 739 0744(CELL)
1960 190SL